WarmFilm Under Floor Heating System
Overview
Features
Designed for floating wood and laminate floors.
Dry and Quick Installation - no cement required!
Ultra-thin!
Dry areas only.
Works with virtually any underlayment system.
Transferable Warranty for 10 years!
Specifications
Power supply options: 120V and 240V versions.
Max Power Load: 11 W/S.F.
Available in 2 widths – 1.5 ft and 3.0 ft.
Custom lengths from 2ft to 30 ft. (120V) and up to 60 ft. (240V)
Pre-attached connectors (2): 0.2"x1.25"x1.375" (requiring either 0.25" thick padding or 0.25" deep subfloor chiseling below the connector)
15 ft, 14AWG connection leads.
Complies with UL under floor heating Standards and National Electric Code
EMC Safe (Electro-magnetic compatibility).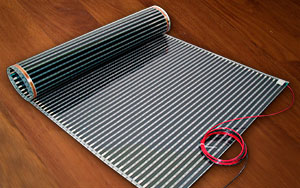 WarmFilm under floor heating system is assembled by ThermoSoft in USA. It is designed specifically for installation under floating wood and laminate. WarmFilm is ideal for large floor areas, like living or family rooms along with bedrooms. By being very energy efficient, the normal room temperatures are usually achieved without exceeding a floor temperature of 79°F.
WarmFilm is the ONLY under floor heating system on the market, which can be customized right during the online ordering process and shipped either the same or next business day.
Shop Now
Offer Expires
TODAY, 12/04/2023

* Free ground shipping for orders above $99 to 48 contiguous United States