Customize Your WarmFilm
Features:
Designed specifically for floating wood and laminate floors.
Ultra-thin!
Dry areas only.
The mat length can be customized to fit your floor area.
Complies with UL standards and the NEC.
10 year transferable warranty!
Use our interactive shopping system below to customize your WarmFilm: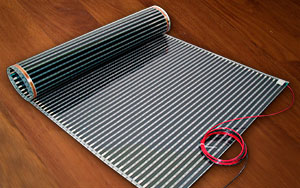 Choose length - up to 30' (120V) or 60' (240V) and quantity
Add a floor heating thermostat and accessories
Two layers of the 0.125" InfraFloor pad or one layer of CeraZorb are recommended for the entire area to avoid 1.25"x1.375" chiseling of the subfloor for each connector (2 per heater) to flatten them with floor level.
Checkout and choose any payment method you prefer!